Boiler Repair
We are experienced in repairing most makes of boiler. We will always give a price for parts and labour before undertaking any repair.
Boiler Servicing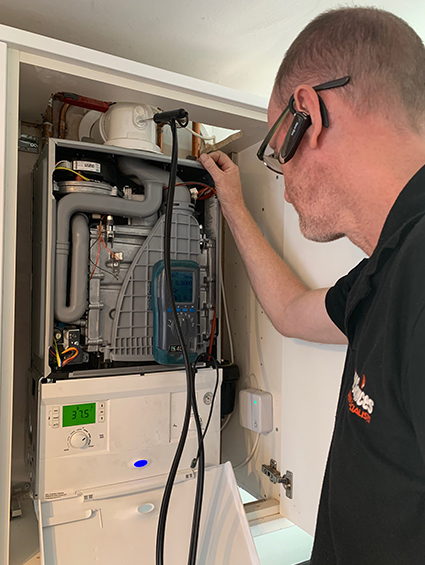 Regular servicing is an important part of maintaining tip top condition of your boiler and it's very important to have an annual service, not only for safety reasons but also to prevent future breakdowns when you least expect them.
Some of the reasons / symptoms that might require your boiler to be serviced.
To maintain your manufacturer guarantee agreement.
Hot water has limited flow or not as hot as it should be.
Boiler overheating or needs refilling frequently.
Fan makes a noise.
Water pressure keeps dropping.
Pump noisy.
Constantly resetting the boiler.
Stains on or near the appliance - On older boilers
Pilot light keeps going out - On older boilers
Irregular or yellow flame.
This is an outline of the service procedures we do
Every service we undertake has a visual check to comply with building, electrical and gas safe regulations.
We then do a pre-service check where we fire the boiler up, check basic operations and identify faults if any.
All main components will be checked, to ensure they are clean and free from damage. The main components we check are burners, injectors, heat exchangers, condensing syphon and fan. Also as part of our routine check we inspect pipework and electrical connections.
We use our flue gas analyser to check the gas valve and make sure we have complete combustion.
Our final check is to analyse the boiler with our flue gas analyser to make sure it is running to manufactures specification.
Should we find a fault with any of our checks then we will advise you of any additional costs to cover the repair.
Finally we will issue a receipt and a print out from our analyser to confirm the readings.
Boilers we service
Worcester Bosch - all ages.
All other makes - Condensing Boilers manufactured from 2005 launch year. Older boiler services are subject to approval.
Servicing times
Monday to Friday 8am to 5pm.
Saturday 8am to 2pm.